Weddings,
Excite! Disc Jockey.
.....
Your wedding experts!
Hiring a DJ for your wedding reception can be a challenge. With all the advertising on the internet and in print it's sometimes difficult to choose. Who do you hire? Who do you trust to a very important day in your life?
If you're like most people, all you want is an awesome professional DJ at a reasonable price. You don't want to get stuck with someone who just stands behind their equipment muttering a few words that you can't even understand. And you don't want to over pay for talent that doesn't fit your needs.
The perfect combination of fun, elegance and affordability.
Your day, your way! That's our promise...
Some of our clients want their reception to be wild and crazy, some of our clients want their reception to be low key and some clients want something in between. Whatever your tastes may be, we play your requests and interact and entertain at the level you request.
Here's why you'll love us:
Excellent Customer Service.

Easy going, Easy to talk to, Down to earth professionals.

20+ Years of experience.

Local small business.

Always willing to go the extra mile for you.

Easy party planning.

Packages to suit your particular taste.

We Listen.
Disc Jockey Entertainment Wedding Packages and Options
Economy 4 Hour Wedding Package
Classic 5 Hour Wedding Package
Platinum 5 Hour Wedding Package
An Excite Disc Jockey professional - in proper attire - will coordinate the day's events - make all necessary announcements - lead and interact with dancing in an elegant and fun style without being "cheesy" or over the top
60,000 + All digital and legal music library - including music for all generations - with no explicit lyrics
Your DJ will play your requests. That's a Promise!
Top of the line all digital equipment
Wireless microphone for announcements, toasts, etc...
Backup equipment on site
Backup DJ on call
Free office consultations and planning sessions
An Excite Disc Jockey professional - in proper attire - will coordinate the day's events - make all necessary announcements - lead and interact with dancing in an elegant and fun style without being "cheesy" or over the top
Your Choice of DJ (Subject to availability)
60,000 + All digital and legal music library - including music for all generations - with no explicit lyrics
Your DJ will play your requests. That's a Promise!
Top of the line all digital equipment
Wireless microphone for announcements, toasts, etc...
Front facade for a truly clean and professional look
Backup equipment on site
Backup DJ on call
Standard light show
Free office consultations and planning sessions
Online planning system where you can pick music - create a timeline - create a list of names for introductions - make payments - plan as much or as little detail as you'd like
Everything from the Classic 5 Hour Wedding Package Plus the Following:
Professional Disc Jockey and MC (Two man team)
Upgraded sound with 1500+ watts of power - for larger venues and larger guest lists
Concert style intelligent lighting
Enhanced Uplighting Package
Custom Gobo Lighting
Glow Braclets
Popular Options and Enhancements "A La Carte"
Ceremony Sound System:

Our ceremony system is a scaled down version of main system. It can be setup just about anywhere indoors or out.

The ceremony system provides music as your guests arrive, processional, recessional music, sand ceremony, candle lighting, etc...

The ceremony system also provides wireless lapel type microphones for the officiant. Lapel clip on microphones are small and inconspicuous so as not to obstruct photography.

The Ceremony system can also be used for cocktail hour music.
Concert Style Intelligent Light Show:

Professional nightclub style lighting includes 4 Intelligent scanning DMX controlled lighting fixtures. What does that mean? Let's just say it's a really cool lighting effect.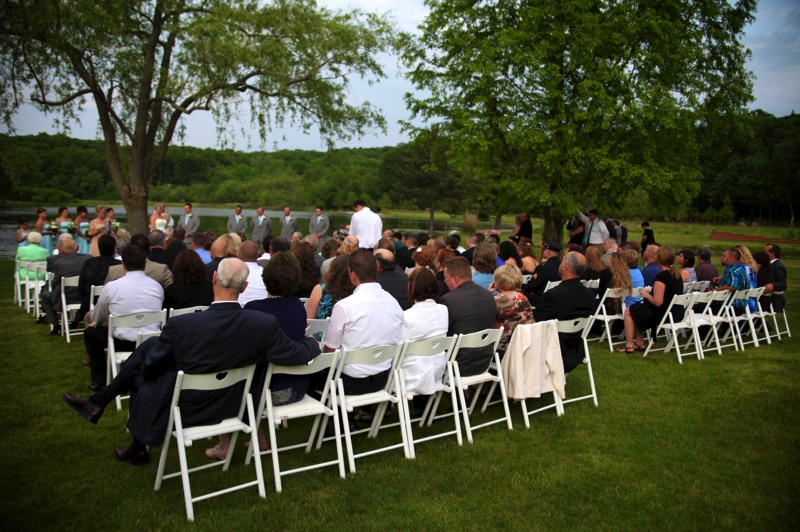 Uplighting Standard and Enhanced:
What is up-lighting? You may ask. Basically, uplighting or sometimes called architectural lighting are lighting fixtures set on the floor that shoot light upwards onto the walls and ceilings of your venue. These lighting fixtures can emit just about any color you wish. They really do change the atmosphere in the room. A picture is worth a thousand words so check out some photos of uplighting we've done below.
Uplighting has quickly become one of the most popular options for weddings.
Standard uplighting:
Our standard uplighting package contains up to 12 fixtures for medium to small sized venues. You can choose from the following colors to match your decor, theme or bridal party colors.
Red

Magenta

Violet

Yellow

Orange

Teal

Blue

Green

White
Enhanced Uplighting: Our Enhanced uplighting packages contains up to 20 fixtures and can change colors throughout the event. This option also allows for more color adjustments.

Below is an example with uplighting and without.
Custom Gobo Lighting:
Custom Gobo Lighting adds a unique touch to every wedding. Let us design an attractive monogram to be displayed on the floor, wall or ceiling of your wedding reception. See examples below.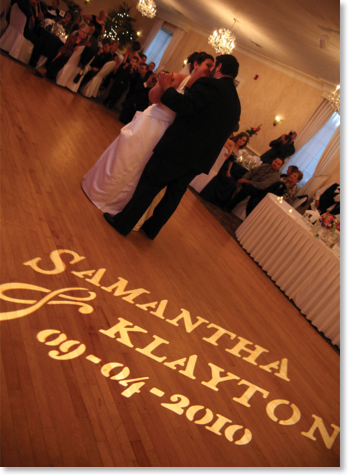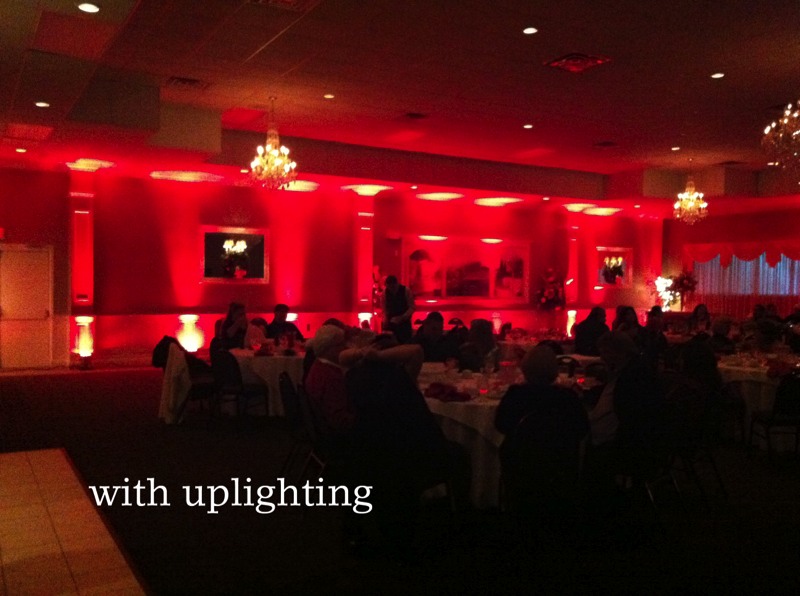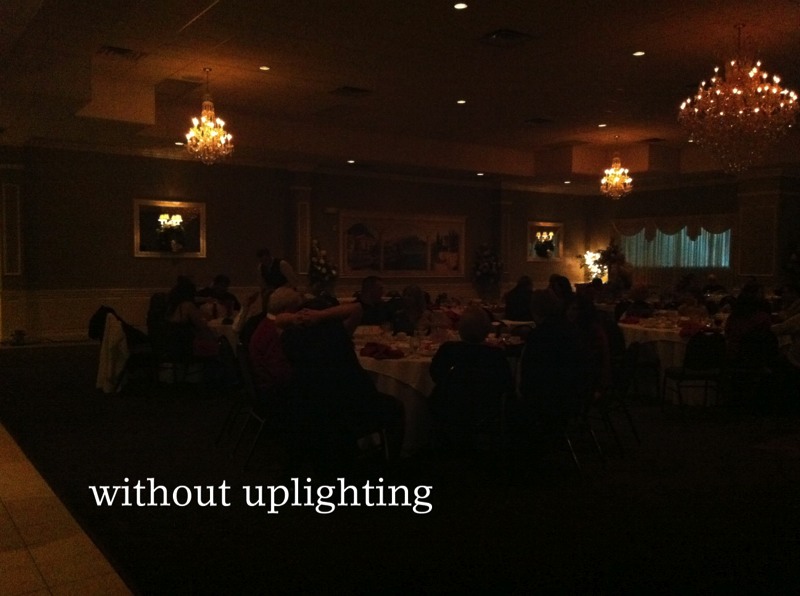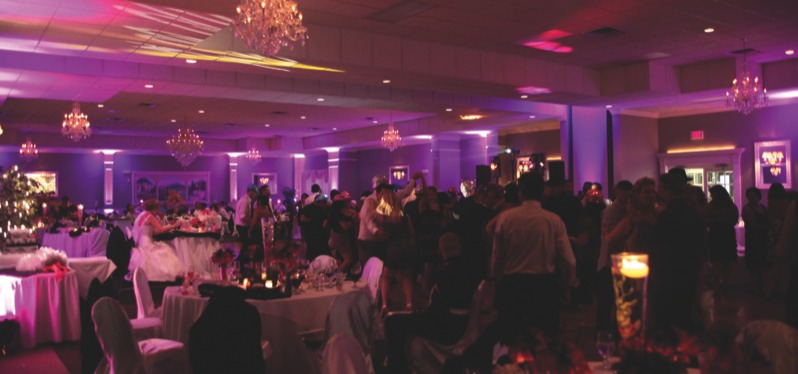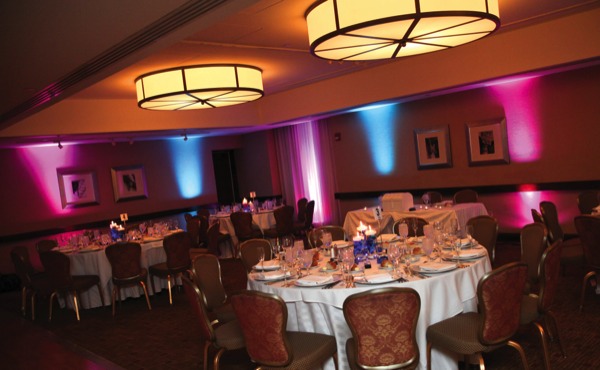 Karaoke:

Add karaoke to any wedding reception...

Karaoke is always a fun choice for those who want to do something a little bit different. We provide a large video screen for the lyrics, karaoke books for your guests to browse through, sign up sheets and pens. We also provide 4 wireless microphones for group sing along songs.


Custom Picture Slide Show:

Let us put together a fun and entertaining slide show for you and your guests to enjoy and reminisce. Simply supply us with any pictures of the bride, groom, family and friends. We will digitally scan older photos and combine them with any newer digital photos. Up to 200 images. The slide show is perfect for cocktail hour and dinner.

We use a 10 foot video screen and a high output projector so that every seat in the house has a great view.

Projector and Screen Setup:

For those clients who are tech savy and can scan and or put the slide show together themselves, we can save you money by simply setting up the projector and screen while you provide the actual content of the slide show.
Custom Voice Over Music:

You can surprise your loved ones with a custom recording of your voice over any song. For example the bride can give her thanks to her dad for all he has done over the years. We will record a 10 - 45 second clip and overlay the recording onto a song. This adds a real sentimental touch to any dance. Father - Daughter, Mother - Son, or Bride and Groom first dance.

Click on the audio file below for an example:



Photobooth:

The reviews are out and the wedding Photo Booth is a big hit! Excite Disc Jockey can provide a classy looking photo booth for your guests during your wedding reception.

Your photo booth can accommodate several people for those unrehearsed candid photos. It couldn't be easier. Your guests simply sit in the booth, pick out some photo props, press start on the touchscreen, and strike up some poses for memories that will last a lifetime. The printed photo strips are free of charge and are quickly printed on the spot for your guests to take home as a novelty.

You will also receive the digital copies of all the shots taken the same night! Or we can send you the images at a more convenient time. Party props such as feather boas, funny hats, oversized sunglasses, etc... are included for your guests to use.
Don't take our word for it... Here's what our clients are saying...
Great events don't happen by accident....it's about planning.
Organization is key...
Your first dance does you no good if your DJ can't find it. Preparing for a wedding reception takes time and energy. We take the stress out of planning by personally going over all the details beforehand.

Backup, backup, then backup...
Even the best equipment on the market is susceptible to failure. We bring a backup of every piece of equipment to every event. I'm sure at one point or another you've experienced a computer, laptop or other smart device simply crash and not work. We have backup plans for just such an emergency to keep your party going without a hitch.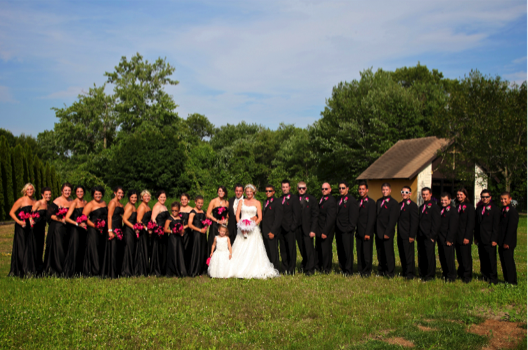 What about the not so obvious backup plans? I'm talking about vehicle breakdowns, staff illness, traffic conditions, etc....
Have you ever thought that your day hinges on the reliability of your vendors' vehicles? Not many people think about it but to us keeping a properly maintained vehicle is imperative. And again no matter how up to date the maintenance is, any transportation is susceptible to breakdown. We have an app for that. No just kidding, but we do have backup vehicles for just such an emergency.
In this business calling in sick means that your talent for the day is on his or her death bed. LOL, ok I'm exaggerating but there are rare instances where your chosen DJ, Photographer or Videographer just physically can not be there. Also unexpected deaths in the family (God forbid) can also cause your talent to not be able to perform. Rest assured in our twenty plus years these circumstances are few and far between but none the less we plan for it. Backup Disc Jockeys Photographers and Videographers are always on call.
We're not just DJs...
Your DJ doesn't just play music. We do a lot of behind the scenes preparation, planning and coordinating. We work with the banquet facility, caterers, photographers, videographers, justice of the peace, pastors and wedding planners so that every vendor knows what is happening, when, where and how. Everyone needs to be on the same page and informed.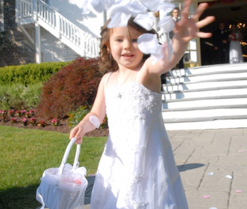 What makes us different than the rest?
Many DJ companies now a days have DJs that really love to just play music and that's the major downside I see when it comes to much of our competition.
They love being in control of the party and being the center of attention. In fact some other DJs love DJing so much they're willing to do the job for very little pay. Why not? They're doing something they really love right?
What makes us different is that besides having a true love for all types of music, knowing what to play and when to play it, we also strive to ensure the outcome of a successful day. Not only do we love the DJ entertainment aspect of your party but we equally love making sure everything flows smoothly. At the end of the night when our clients come up and thank us for a wonderful job it makes all the hard work worth while. Customer satisfaction is our number one goal. If we don't go above and beyond of what our clients expect we'd be falling short of our own goals.
Not
just
entertainers, we're real DJs...
One thing we've noticed recently regarding our competition is that some don't actually have the skill to mix music. Why should you care? One of the things that we watch for at every event is the energy on the dance floor. Blending one song to the next helps keep that energy going. Choosing what song to play next and how to transition that song can make the difference of people going back to their seats or keeping them on the floor wanting more. The skill of beat mixing can really make the dance floor stay alive.
We can't guarantee that every wedding reception is going to flow flawlessly, as a matter of fact we can pretty much guarantee that something unexpected will happen. It can be something as simple as the best man forgetting his toast notes in his car or one of the bridesmaid dresses needs a quick safety pin. Whatever isn't planned for that day could and might happen.
It's not a science it's an art.
That's where we shine and our twenty plus years of experience come into play. You should be looking for a DJ that has the experience, confidence and know how when it comes to handling unexpected situations.
A real life experience...
I was at one wedding where we had the bridal party lined up and ready to be introduced into the reception area, immediately followed up with the bride and groom's first dance then the toasts. Typically the banquet facility will pour the champagne ahead of time to ensure everyone will have a glass of champagne to toast the newlyweds. I took a quick peek at the tables and noticed all the champagne glasses were empty. Without alarm I told the bridal party to hang tight for a few minutes. I proceeded to find the banquet manager and informed them that the toasts would be happening shortly and they need to pour the champagne asap. It was a fairly new banquet manager and he or she (to protect the innocent) had totally forgotten about the champagne. I quickly and politely explained that they had about 10 minutes during introductions and first dance to get the champagne poured. The banquet facility quickly rounded up all of the staff and began pouring. After the introductions and the first dance the best man and maid of honor proceeded with their toasts. Everyone in the room had a full glass to toast the new bride and groom. No one in the room suspected anything unusual and the wedding reception started off without a hitch. Later the facility manager came over to me and thanked me for the heads up. Awkwardness avoided!
If you've read everything up to here...
Congratulations! You're really doing your homework. Let us help you with some of that homework. We get a lot of calls from potential brides that are looking for a DJ. More often than not the call goes something like this. "Hi I saw your website and I was wondering how much you charge for a wedding." If you're like most brides you're really not sure what to ask a DJ company. Fact of the matter is most brides have never had to hire a DJ before and don't know what to ask. It seems reasonable that the first thing you should ask is the price. Price is very important, yes we understand however if you pay let's say $600 for a DJ that has little experience, no backup plans, no liability insurance, an illegal music library and an under-powered sound system it's really not a bargain at all.
Not all DJ's are created equal.
To help you make an informed decision we've compiled a set of questions you should ask any DJ company before you hire them. We explain why these questions are important and what answers the company should be giving you.
Click here
to go directly to our "What questions to ask a DJ" page. Feel free to download the PDF file for easy shopping.