Excite! Is proud to offer full service videography for your Wedding, Bar/Bat Mitzvah or any special event.

Our Classic Videography Package includes:
• One Excite! professional videographer
• Two shooting locations
• All professional digital camera equipment
• High Definition footage provided to you on
BluRay or Standard Definition provided on DVD
• 4 Copies of your movie
• Up to 6 hours of coverage

Save Big When You Combine Services DJ, Photo or Video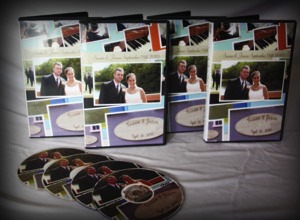 Unfortunately for many, videography services can be an afterthought. An expense that is at the bottom of the list. I (Rocco, Owner of Excite) fell victim to thinking that I did not want a video done at my own wedding. Being in this business for over twenty years you would have thought I'd know better.

When I got married four years ago my wife and I decided on a less traditional wedding reception. With that thought in mind we didn't think we would want a wedding video done. Well now four years later we regret not doing it. Our thoughts were that we'd probably never watch it and it would just sit on a shelf somewhere taking up space. We couldn't have been more wrong.

When you think about it, your wedding video isn't so much for watching now, or next year or the next. It's biggest impact comes 10, 20, 30 and more years down the road. I'm certain our children, their children and so on would love to have seen us at one of the most important times in our lives. Not to mention they could have seen their grandparents, great grandparents, family and friends they way we were 50 years ago. Photographs are a great way to reminisce but imagine watching a video of your parents, grandparents and great grandparents on their wedding day. Simply put, priceless.


One stop shopping for your convenience...
When you contract any two services combined, Disc Jockey, Photography or Videography save 10%! That's approximately a $250 savings.
When you contract any three services combined, Disc Jockey, Photography or Videography save 11%! That's approximately over $400 savings.
4 or more Service Discount
When you contract any four services combined, Disc Jockey, Photography, Videography, Photo Booth or Lounge Decor save 12%!
One Contact Person

One Contract To Sign

Time Saved Meeting 3 Separate Vendors, A Multiple Of Times

3 Services - One Team Working Together

One Stop Shopping

Money And Time Saved
Call today for more details... 860.945.1919